Harlem Wizards Basketball Game
May 5, 2018 @ 10:30 am

-

1:00 pm
GET YOUR SEATS TODAY ~ ORDER HERE!

LOCK IN THE PRE-GAME PRICE BY ORDERING ONLINE TODAY.
ONLINE SALES CLOSE AT MIDNIGHT ON 5/4.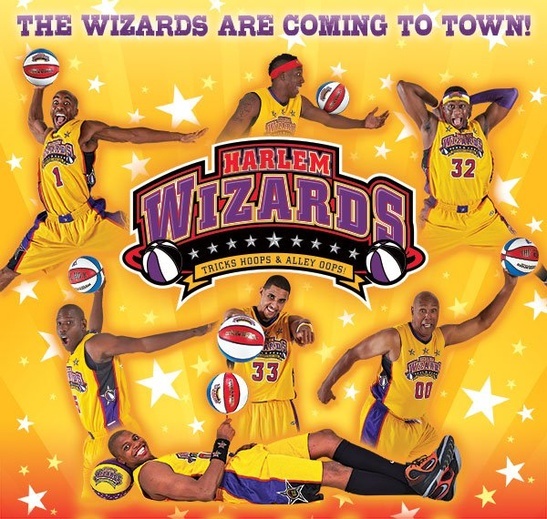 The Harlem Wizards are coming back to Peekskill!
Don't miss this fun-filled, high flying, and interactive family event! Join us to see the Harlem Wizards challenge the Peekskill All-Stars in a basketball showdown filled with music, comedy and entertainment! Come join the fun and help cheer on our team of teachers, parents and staff!
Saturday, May 5th
in the P.H.S. Gym
Doors Open: 2:30pm • Game Starts: 3:30pm
Play the Video Below for a Preview of the Game!
~ TICKET INFO ~
PCSD Student Tickets Are FREE with a Paying Adult!
General Admission: $15 in advance / $18 at the door
Get One FREE STUDENT TICKET with every General Admission ticket purchased!
Upgrade your ticket to enjoy Reserved or Courtside Seating:
Reserved Seating: $20
(First 1-3 Rows of the Bleachers + a Color Team Poster for Autographs)
Courtside Plus: $35
(Courtside Reserved Seating in a folding chair; Meet & Greet with 2-3 Wizards prior to the game; Souvenir Lanyard Credentials; Color Team Poster for Autographs; $10 Discount on a Wizards Replica Jersey)
Wear a Wizards Jersey to the Game to Enjoy the "Wiz Kid" Experience!
Wizards Replica Jersey Required. (Buy One at the Game or Wear an Old One from a Previous Game.)
Wizards Jersey: $45
Jersey with Courtside Plus Ticket: $35
Warm-Up with the Wizards!
Personal Crowd Introduction as a "Wiz Kid" by the MC!
Participation in the Wizards Grand Entrance!
Group Photo with Both Teams
Click here to order tickets online.
Or download a printable order form here and return to your child's school by May 2nd.
The Wizards visited our elementary school kids last month! Check out the pictures here:

---
We need volunteers to make this event a success!
Help us plan and organize this fun and exciting event. Come out and meet the Special Events Committee and share your ideas on how to make this event even better than before. Our monthly meetings kick-off on 10/16.
Sign up here to help out!