We are a diverse and inclusive group of parents and teachers, working to build an exceptional school community for the benefit of all district children. Our PTO operates as a district-wide organization, serving every school in Peekskill, from preK through high school.
We volunteer in our schools, organize enrichment activities, raise money to support the school district, advocate for a quality education for every child, and enhance communication between schools and parents. We encourage all parents and staff to get involved in the work of the PTO!
Line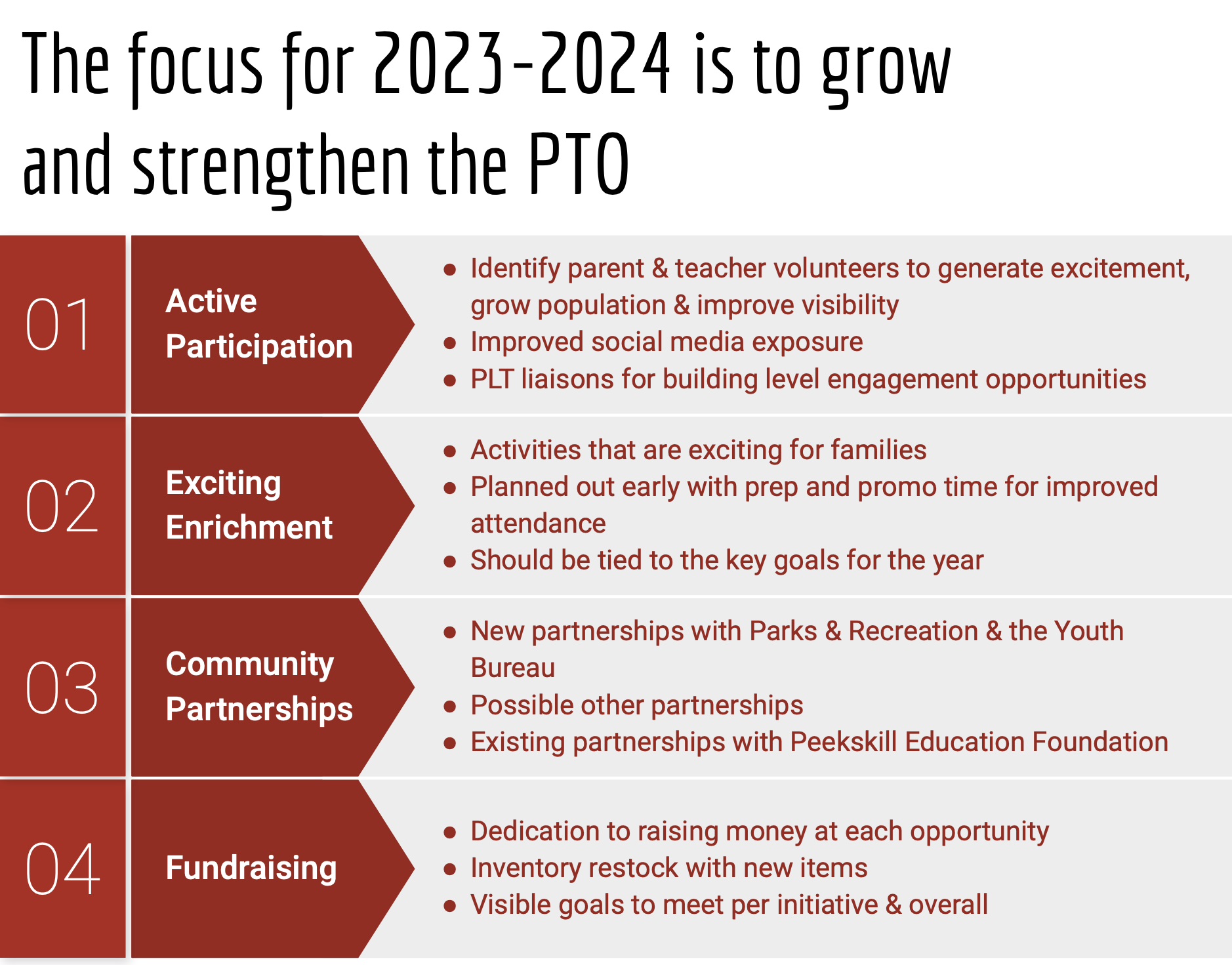 Line
How to Get Involved
If your child is enrolled in any Peekskill public school, you are automatically a member of the PTO.  If you are a Peekskill City School District teacher, aide, or administrator, you are also a member.  No dues are required.
We urge all parents and staff to become active in the PTO's work by joining one of our projects, helping out with fundraisers, or volunteering for a special event!
Line
Saturday Academy
Our PTO collaborates with the school district to offer enrichment activities at Saturday Academy.  Saturday Academy was launched in 2018 as part of the District's community schools initiative and features community partners, workshops, guest speakers, crafts, free resources, and more!
During the 2022/2023 school year, our PTO hosted the Trunk-or-Treat event in October, offered the Book Giveaway, craft activities, and Black History Month gallery in February, marched with the district in the St. Patrick's Day parade in March, and sponsored the Book Fair and a craft table in May.
Line
General Meetings
Attending a general PTO meeting is a great way to meet other parents, get to know building staff, and find out about all the great happenings in our school district.  Due to the pandemic, our general meetings are still being held virtually.
View our General Meeting Schedule here.
Line
PTO Executive Board
The PTO Executive Board includes our officers, project leaders and parent liaisons, as well as representatives from the Board of Education, Peekskill Education Foundation, and SEPTO. Our Executive Board meets approximately every two months.
View our Executive Board contact list here.
Read more about our officers here.
View our executive meeting minutes, treasurer reports, and committee reports here.
Line
PTO Officer Elections
The PTO holds officer elections annually at our June general meeting.  Our officers serve two-year terms, starting July 1st of their election year.
Interested in stepping into a leadership role? Learn more about our election process here.
Line
The Peekskill City School District Parent-Teacher Organization is a 501(c)(3) not-for-profit organization.
Our mission is to:
Build bridges between teachers, families and the community
Enhance cultural enrichment, environmental, social and project-based opportunities above & beyond classroom academics
Advocate for a quality education for every child