We are working with our schools and community to publish a multicultural cookbook that will feature a variety of international recipes and students' artwork. Our goal is to highlight our community's diverse heritage by sharing the meals we cook and enjoy with our family & friends.
Potluck food celebrations will also be held in our schools. This will be a great opportunity for parents to come together and learn a little bit more about each other.
Please join us by submitting your favorite traditional recipe(s) for consideration in our cookbook. If you'd like, include a short personal note about why you shared your dish. Judges would like to include recipes from as many cultures and countries as possible.
Volunteers are needed to help with the cookbook production, provide food at the potluck celebrations, and to help at each building during the events!
Sign-up here to help.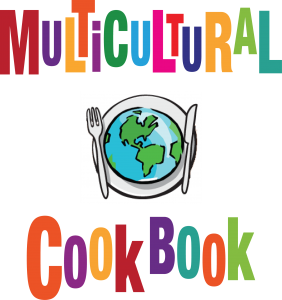 RECIPE SUBMISSION INSTRUCTIONS:
Click here to submit your recipe via google forms.
NEATLY print using pen, NOT pencil.
One recipe per entry form; attach extra sheets if needed.
Be specific about order and procedure.
Be precise about temperatures and times for cooking, baking, chilling, and/or freezing.
List ingredients separate from directions.
List all ingredients in order of use. Include amounts and size, e.g. 2 (8 oz. cans).
Recipes much be written in paragraph(s) format, NOT step or list format.
Use names of ingredients in the directions, e.g., "Combine flour and sugar." DO NOT use statements like, "Combine first three ingredients."
Accurately spell and capitalize your name.
Please indicate allergen or dietary status of recipe; Vegetarian, Vegan, Free of Soy, Seafood, Shell Fish, Eggs, Dairy, Gluten, Peanuts or Tree Nuts, etc.
Cookbook will be divided into the following categories:
Appetizers & Beverages, Soups & Salads, Vegetables & Side Dishes, Main Dishes, Breads & Rolls, This & That, and Desserts, Cookies & Candy
Deadline for recipe submissions is JANUARY 12, 2018.
Submit your recipe here!